Birthday Party Decoration in Pune
The Most Ingenious Birthday Party Decorators in Pune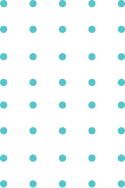 Birthday Party Event Decoration in Pune suits every birthday party, be it the 1st birthday of your newborn baby or be it the 60th birthday of your supportive mom or dad. Many times it happens that you are unable to book a venue for the birthday of your dear one due to lack of time or budget. Never be upset as we are here to set your home like a fully decorated party hall with our creative ideas. We offer plenty of affordable choices for birthday decorations at home full of fun, excitement, and enjoyment. We guarantee your birthday boy/girl and guests will feel WOW with our proper execution of the birthday bash.If you are searching for Birthday Party Decoration in Pune, your search ends here. SamarthKrupa Event offer many exciting birthday decoration services at budget-friendly prices. Call us now to create a unique decoration that allures your guests at the very first instance.
We are the most trusted event planners in Pune that know how to turn your party venue into a celebration floor with our magical touch. Our
Balloon Decoration in Pune
Are you planning to arrange a surprise & exciting birthday party for your loved ones? SamarthKrupa Event are experts in setting an incredible Birthday Party Event Decoration in Pune that boosts the feel of celebration on cloud nine. A unique birthday party decoration in Pune is the best way to express your love for the birthday boy or birthday girl. Be it your room or party venue, we take it to a whole new level with our impressive balloon decoration services. Our creative and colorful arrangements brighten up the party premise with a positive aura. You can take a look at a varied range of decoration services offered by us that includes western balloon decoration, flower decoration, craft decoration, theme-based birthday party decoration, simple birthday decoration at home, and many more.
Solutions that Matches with everyone's budget - Low to Royal, Celebration must be Phenomenal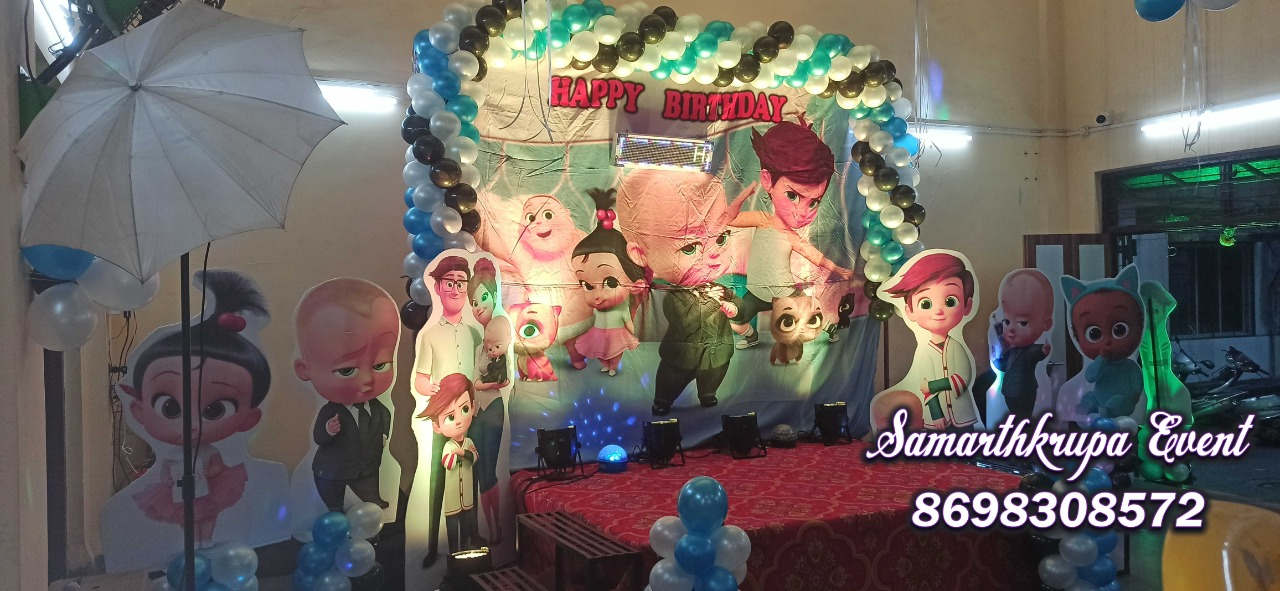 Birthday Party Package No 1
Rate : 5999/- + Transport
500 Balloon Decor.
Theme Backdrop.
6 Cutout.
6 LED Light On Stage.
Birthday Boy / Girl Name.
Printed Carpet.
For Details Contact : Samarthkrupa Event
Call : 8698308572 | 7030151913
Birthday Party Package No 2
Rate : 5999/- + Transport
Balloon Garland Arch.
Balloon Entry Arch.
Seeling And Side Balloon.
White Satin Backdrop.
6 Baby Cutout.
6 LED Light On Stage.
Birthday Boy / Girl Name.
Printed Carpet.
For Details Contact : Samarthkrupa Event
Call : 8698308572 | 7030151913
Birthday Party Package No 3
Rate : 7999/- + Transport
Balloon Girland Ring Decor.
Balloon Side Bunches.
White Satin Backdrop.
Rice Light On Backdrop.
6 Cutout.
6 LED Light On Stage.
Birthday Boy / Girl Name.
Printed Carpet.
For Details Contact : Samarthkrupa Event
Call : 8698308572 | 7030151913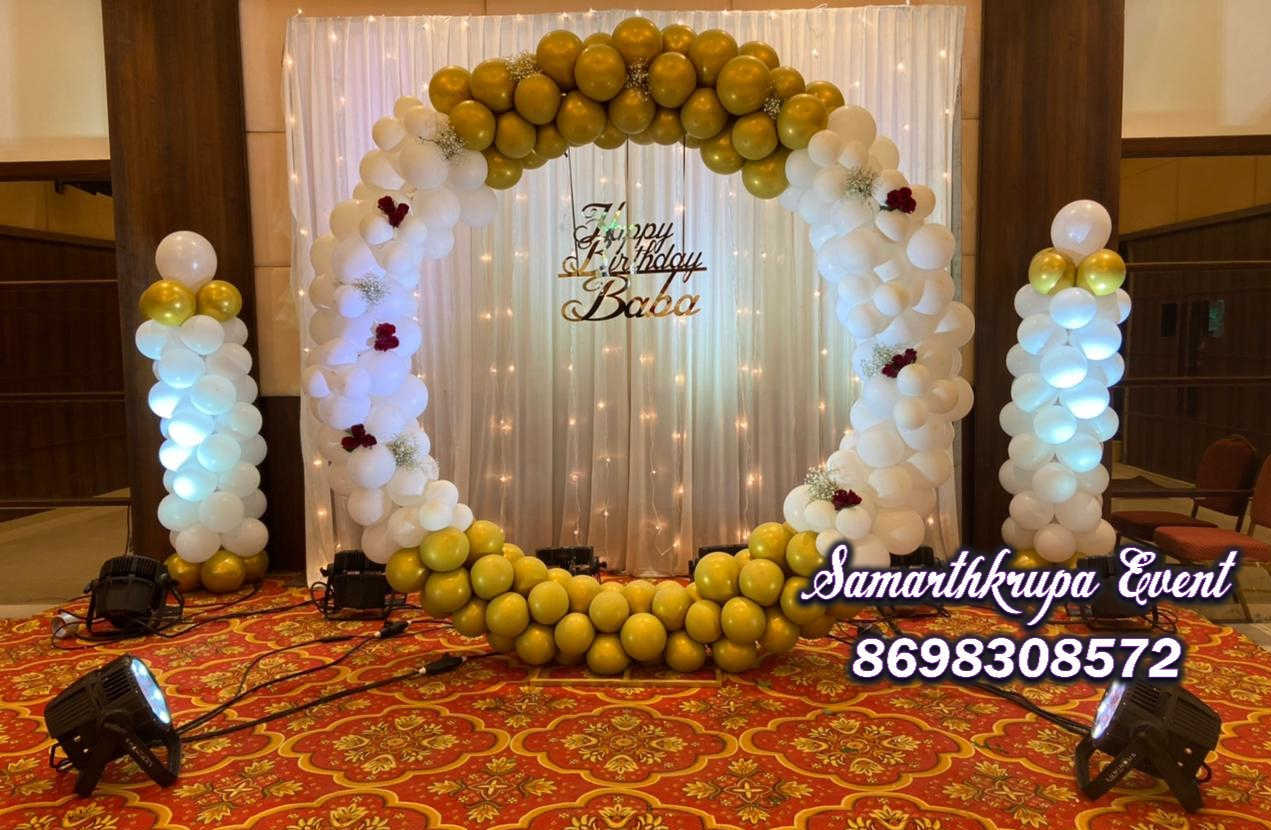 Birthday Party Package No 4
Rate : 6999/- + Transport
Balloon Ring Decor.
Chrome And Normal Balloon.
White Satin Backdrop.
Rice Light On Backdrop.
6 LED Light On Stage.
Acralic Happy Birthday Name.
Birthday Boy / Girl Name.
Printed Carpet.
For Details Contact : Samarthkrupa Event
Call : 8698308572 | 7030151913
Birthday Party Package No 5
Rate : 5999/- + Transport
Balloon Ring Decor.
Chrome And Pestle Balloon.
White Satin Backdrop.
Rice Light On Backdrop.
4 LED Light On Stage.
Birthday Boy / Girl Name.
Printed Carpet.
For Details Contact : Samarthkrupa Event
Call : 8698308572 | 7030151913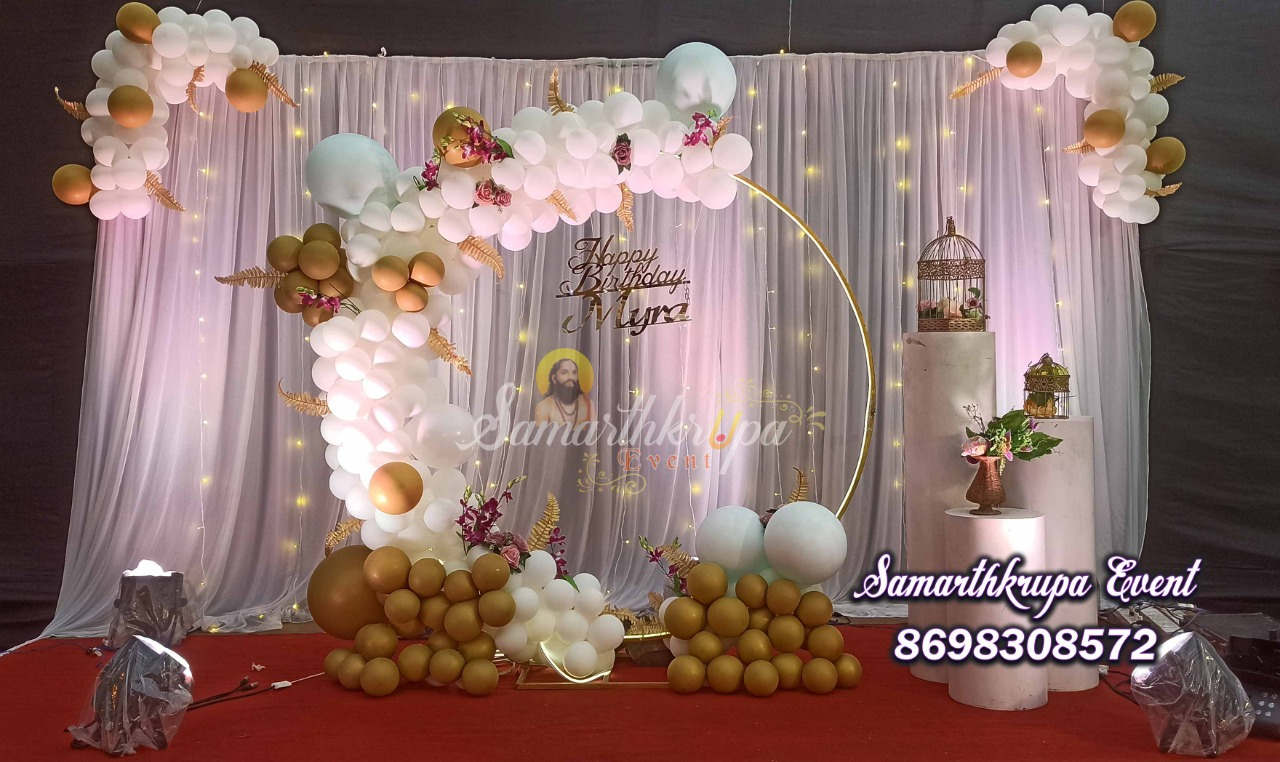 Birthday Party Package No 6
Rate : 9999/- + Transport
Western Balloon Ring Decor.
Chrome And Normal Balloon.
Neon Light In The Ring.
White Satin Backdrop.
Rice Light On Backdrop.
6 LED Light On Stage.
Western Props.
Acralic Happy Birthday Name.
Birthday Boy / Girl Name.
Printed Carpet.
For Details Contact : Samarthkrupa Event
Call : 8698308572 | 7030151913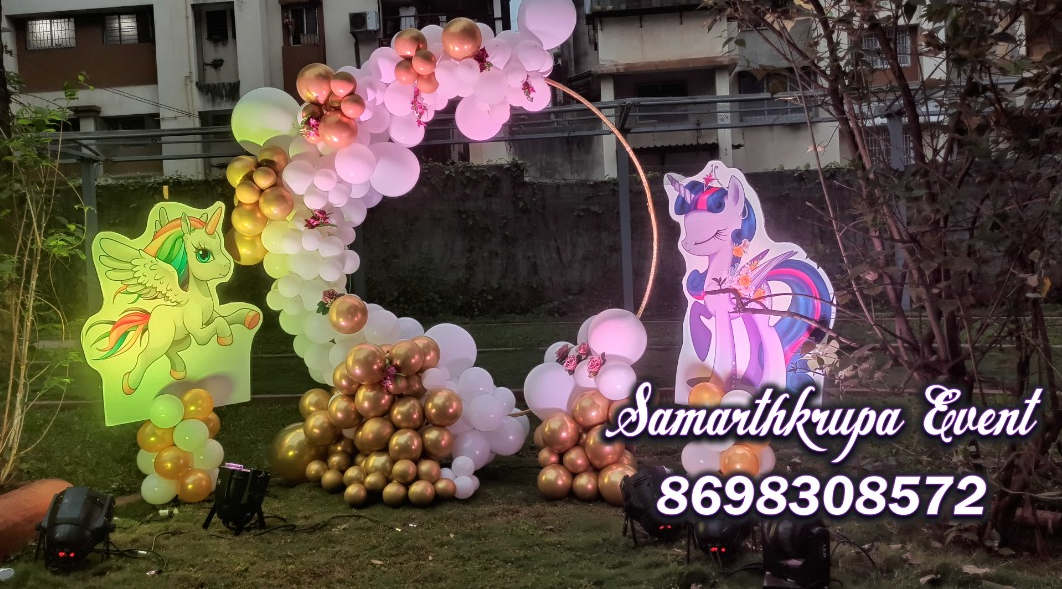 Birthday Party Package No 7
Rate : 7999/- + Transport
Western Balloon Ring Decor.
Chrome And Normal Balloon.
Neon Light In The Ring.
2 Cutout .
6 LED Light On Stage.
Acralic Happy Birthday Name.
Birthday Boy / Girl Name.
Printed Carpet.
For Details Contact : Samarthkrupa Event
Call : 8698308572 | 7030151913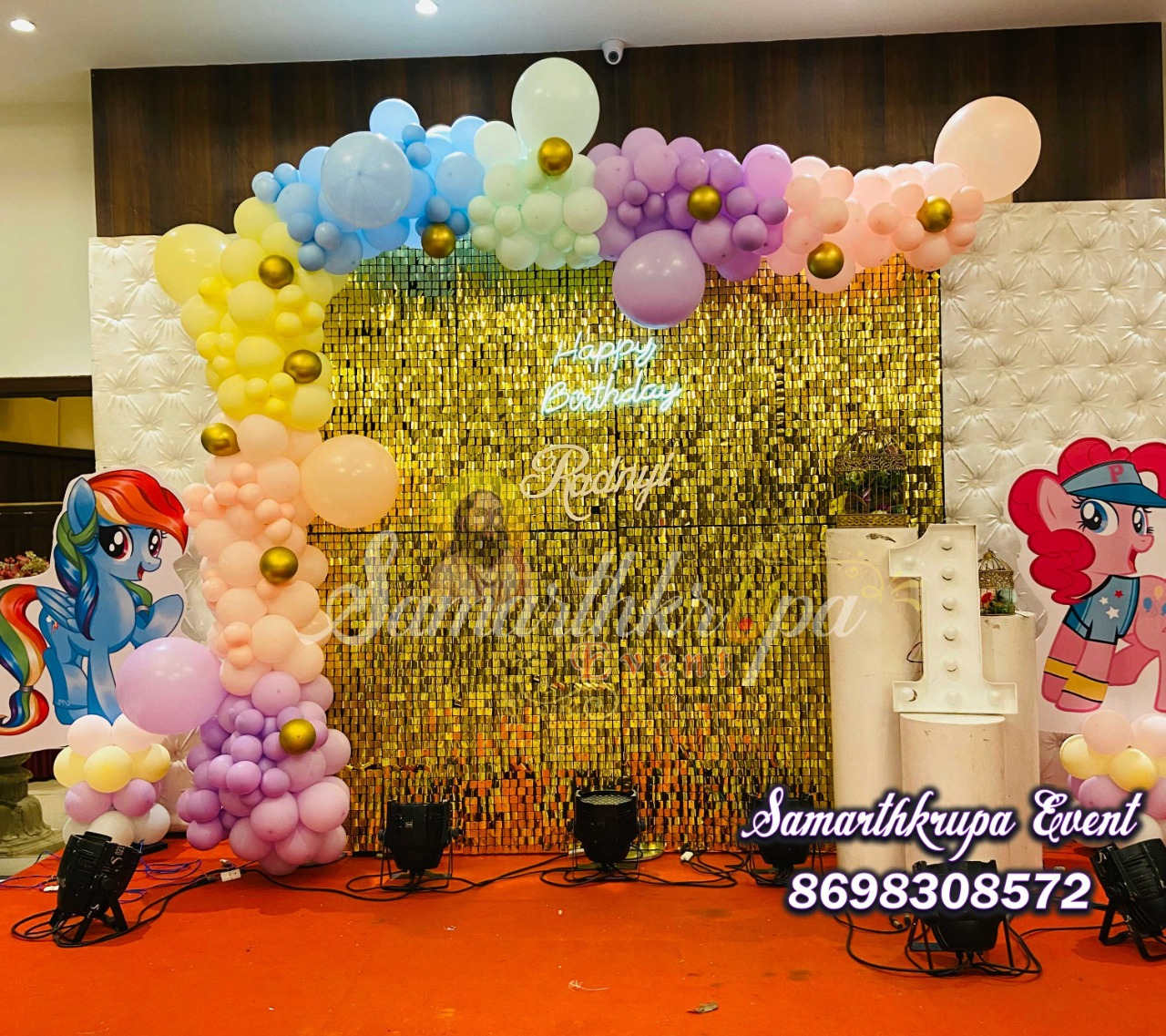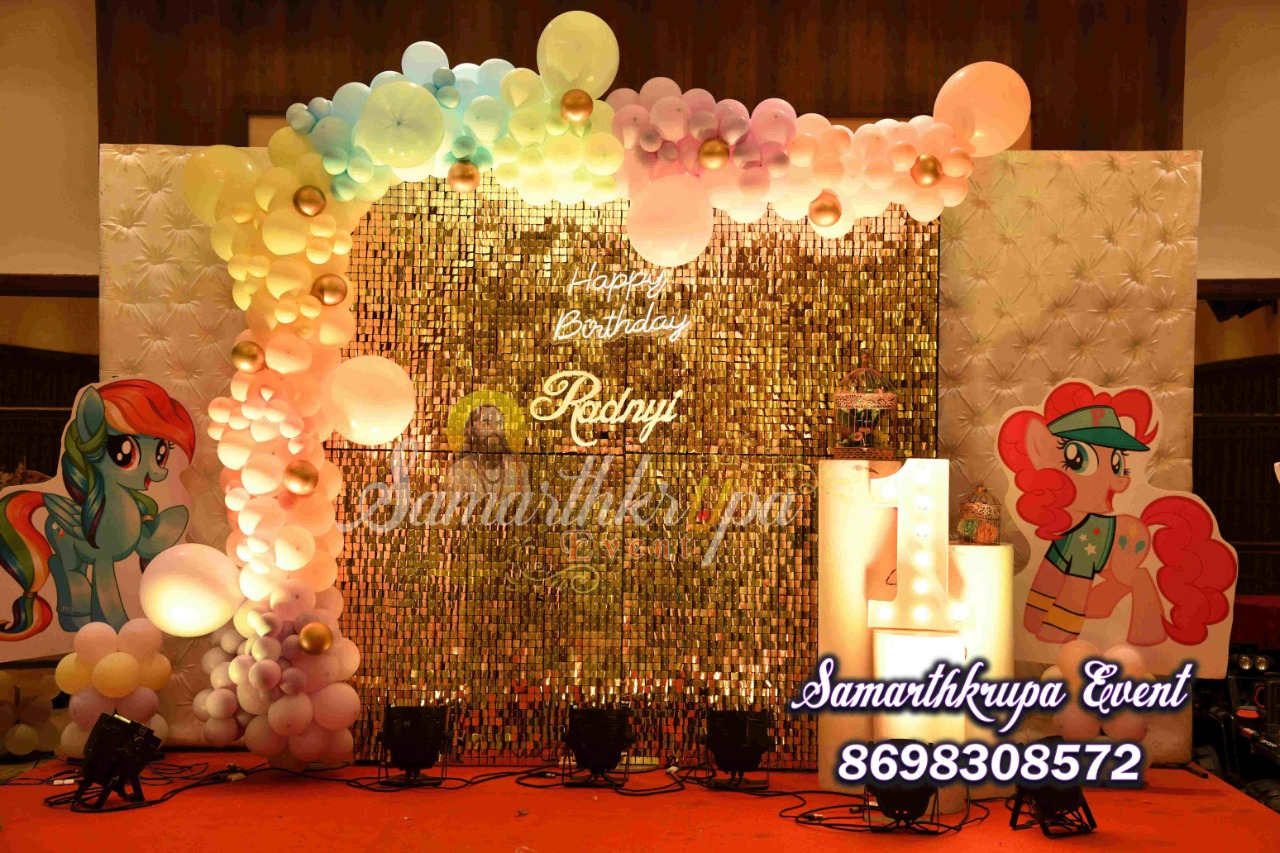 Birthday Party Package No 8
Rate : 12999/- + Transport
Golden Simmer Wall.
Chrome And Pestle Balloon Decor.
Entry Arch.
Western Props.
2 Cutout .
6 LED Light On Stage.
Neon Happy Birthday Name.
Birthday Boy / Girl Name in Acrylic .
Printed Carpet.
For Details Contact : Samarthkrupa Event
Call : 8698308572 | 7030151913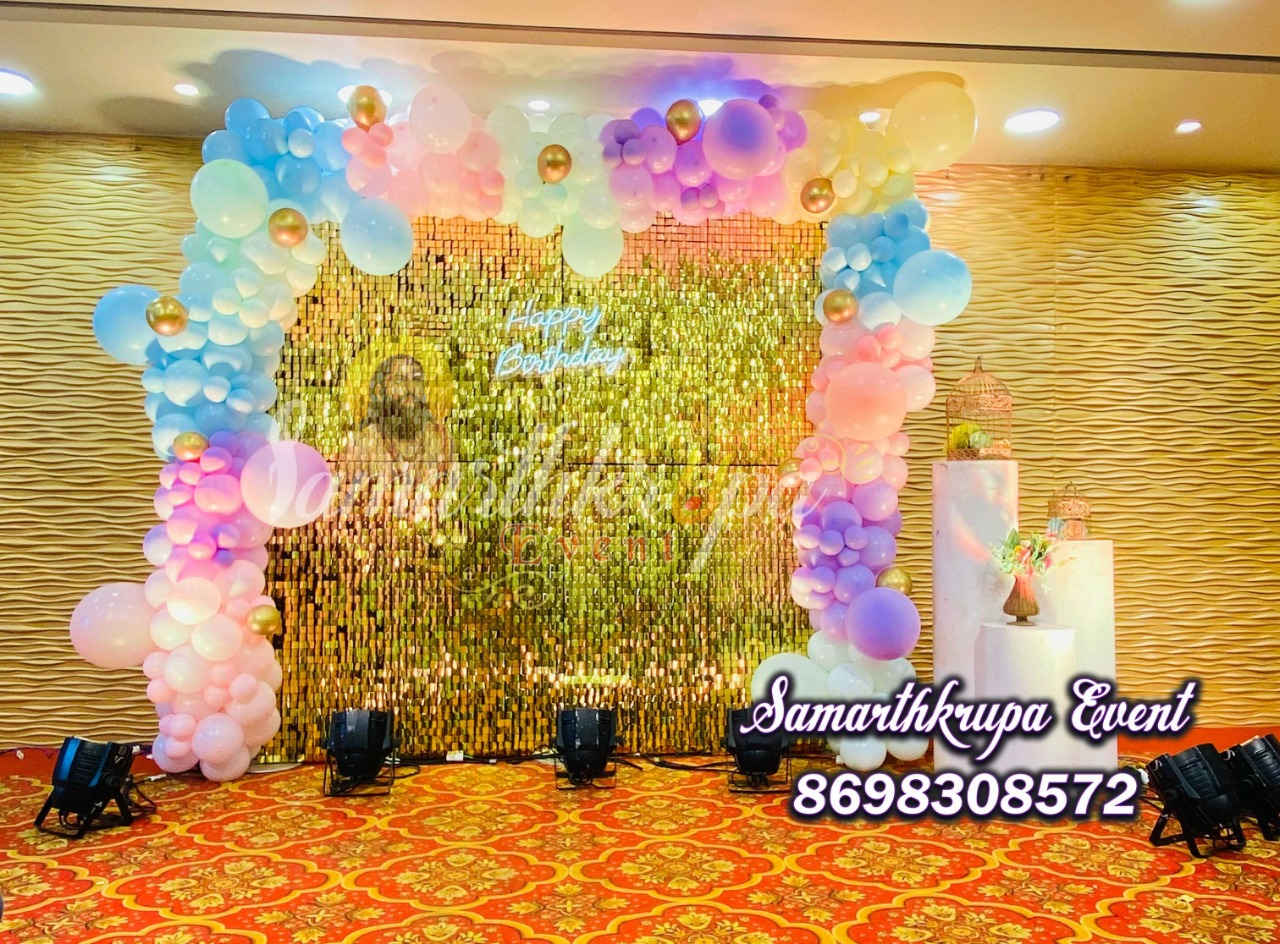 Birthday Party Package No 9
Rate : 13999/- + Transport
Golden Simmer Wall.
Chrome And Pestle Balloon Decor.
Entry Arch.
Western Props.
2 Cutout .
6 LED Light On Stage.
Neon Happy Birthday Name.
Birthday Boy / Girl Name in Acrylic .
Printed Carpet.
For Details Contact : Samarthkrupa Event
Call : 8698308572 | 7030151913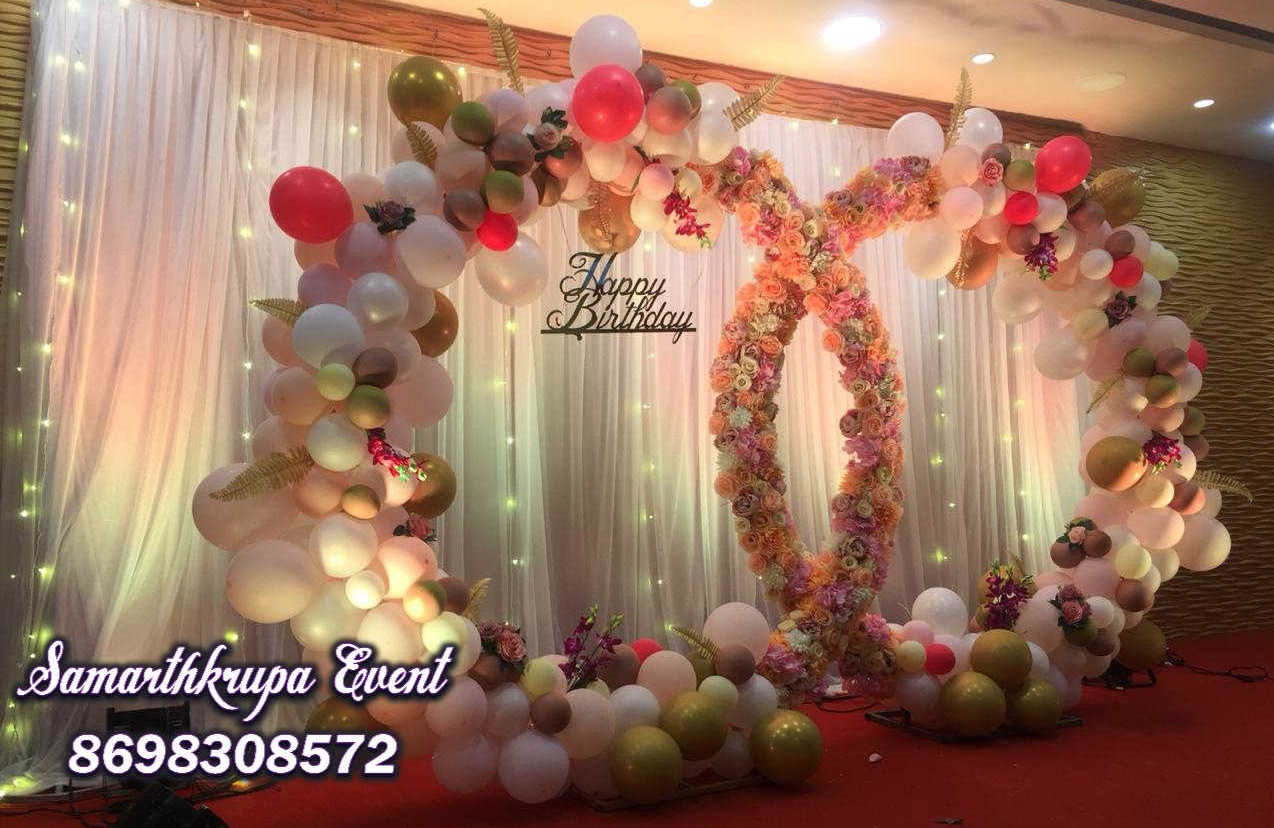 Birthday Party Package No 10
Rate : 9999/- + Transport
Western Balloon Ring Decor.
Chrome And Normal Balloon.
Artificial Flower On Ring.
White Satin Backdrop.
Rice Light On Backdrop.
6 LED Light On Stage.
Western Props.
Acralic Happy Birthday Name.
Birthday Boy / Girl Name.
Printed Carpet.
For Details Contact : Samarthkrupa Event
Call : 8698308572 | 7030151913
Birthday Party Package No 11
Rate : 11999/- + Transport
Balloon Wall Decor.
Balloon Entry Arch.
Balloon Side Bunches.
Baby Photo Flex / Backdrop.
White Satin Backdrop.
6 Cutout.
6 LED Light On Stage.
Happy Birthday Name.
Birthday Boy / Girl Name.
Printed Carpet.
For Details Contact : Samarthkrupa Event
Call : 8698308572 | 7030151913
Birthday Party Package No 12
Rate : 11999/- + Transport
Balloon Arch Setup Decor.
Balloon Entry Arch.
Balloon Side Bunches.
Baby Photo Flex.
White Satin Backdrop.
6 Cutout.
6 LED Light On Stage.
Happy Birthday Name.
Birthday Boy / Girl Name.
Printed Carpet.
For Details Contact : Samarthkrupa Event
Call : 8698308572 | 7030151913
Dohale jevan Decoration | Baby Shower Decoration
Naming Ceremony Decoration
Birthday Party Decoration