Naming Ceremony Decoration In Pune
The Most Inventive Naming Ceremony Decorators in Pune
Are you ready with a dream name for your Prince or Princess? Are you planning a grand naming or cradle ceremony to introduce your baby to society with the official name? SamarthKrupa Event are the most creative planners, organizers, and decorators for grand naming ceremony decoration in Pune. This special event has different names; many people call it a cradle ceremony or a naming ceremony, whereas the Marathi crowd calls it a Barse or a Namkaran Samarambh. Let you call it anything; we provide superior and out-of-the-box naming ceremony decoration/cradle decoration/barsa decoration that creates a magical bond of love between the baby and the family members. Naming ceremony or barsa has exceptional importance according to Hindu tradition. The auspicious rituals performed on the day assures about promising and healthy future of a baby.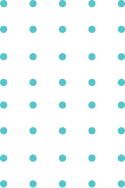 Credle Ceremony Decoration in pune
With 5+ years of experience in the event management industry, we have come up with unique and dazzling naming ceremony decoration ideas that make your celebration worth remembering. Our creative team has designed the perfect baby welcome setup and floral moon setup for a naming ceremony. We are pioneers in setting theme-based (Ram Janma, Krushna Janma, and Shiv Janma) cradle ceremony decoration in Pune.
If you are looking for naming ceremony decoration at home or cradle decoration at home, we have plenty of choices that will fit perfectly to your premises and your budget too. Call us now, share your ideas, and let us manage everything.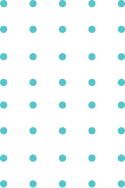 Solutions that Matches with everyone's budget - Low to Royal, Celebration must be Phenomenal
Naming Ceremony Package No 1
Rate : 4999/- + Transport
Sankheda Swing With Artificial   Flower Decoration.
Beautiful Backdrop With Artificial Flower.
6 Baby / Krishna  Cutout.
100 Balloon On Stage.
6 LED Light On Stage.
Baby Name In Display.
Printed Carpet.
For Details Contact : Samarthkrupa Event
Call : 8698308572 | 7030151913
Naming Ceremony Package No 2
Rate : 6999/- + Transport
Sankheda Swing With Artificial   Flower Decoration.
Beautiful Backdrop With Artificial Flower.
6 Baby / Krishna  Cutout.
400 Balloon On Stage.
Backdrop Balloon Arch.
4 Compound With Artificial Flower.
6 LED Light On Stage.
Baby Name In Display.
Printed Carpet.
For Details Contact : Samarthkrupa Event
Call : 8698308572 | 7030151913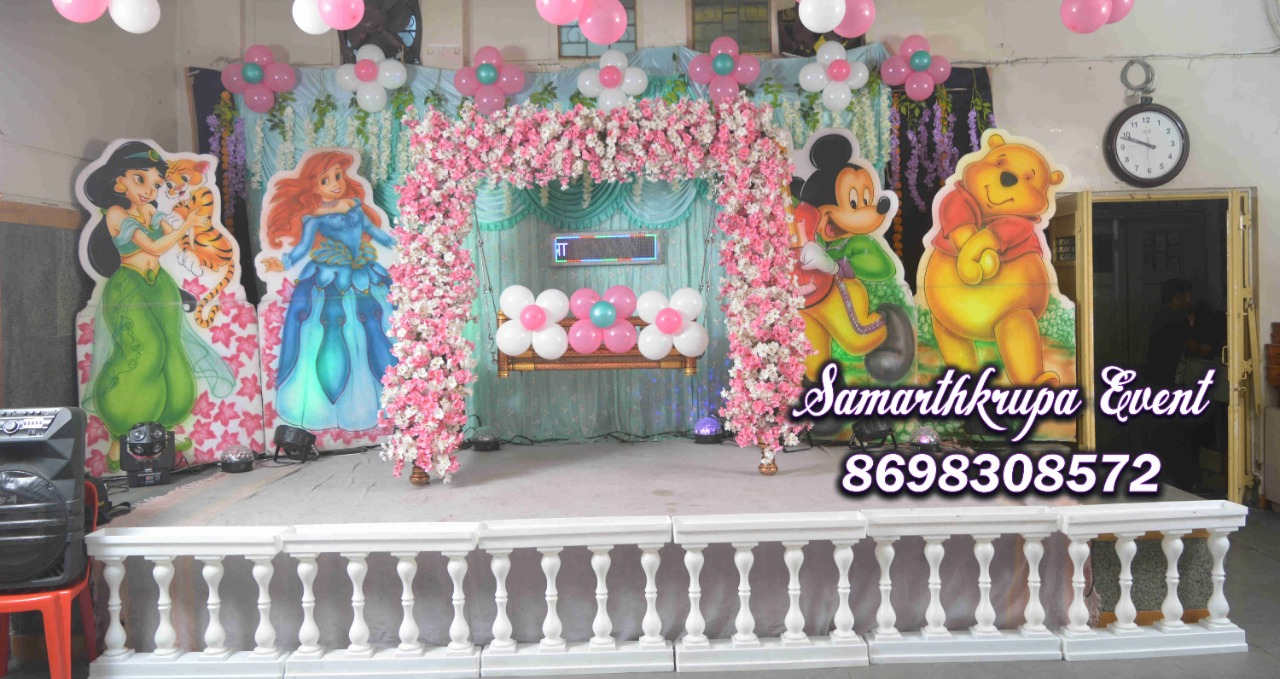 Naming Ceremony Package No 3
Rate : 6999/- + Transport
Sankheda Swing With Artificial   Flower Decoration.
Beautiful Backdrop With Artificial Flower.
6 Baby / Krishna  Cutout.
6 LED Light On Stage.
4 Compound With Artificial Flower.
Baby Name In Display.
200 Balloon Decor.
Printed Carpet.
For Details Contact : Samarthkrupa Event
Call : 8698308572 | 7030151913
Naming Ceremony Package No 4
Rate : 7999/- + Transport
Sankheda Swing With Artificial   Flower Decoration.
Beautiful Backdrop With Artificial Flower.
Balloon Garland Arch On Backdrop.
6 Baby / Krishna  Cutout.
6 LED Light On Stage.
2 Pot With Artificial Flower.
4 Compound With Artificial Flower.
Baby Name In Display.
300 Balloon Decor.
Printed Carpet.
For Details Contact : Samarthkrupa Event
Call : 8698308572 | 7030151913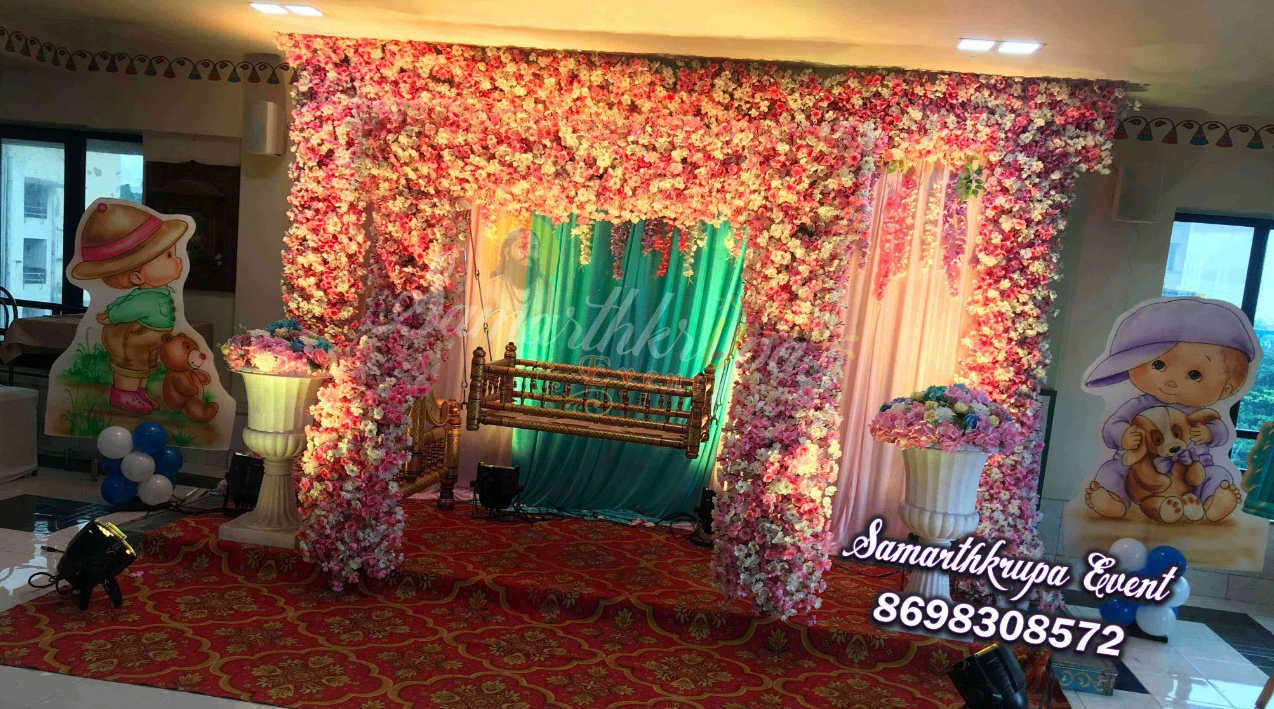 Naming Ceremony Package No 5
Rate : 7999/- + Transport
Sankheda Swing With Artificial   Flower Decoration.
Beautiful Backdrop With Artificial Flower.
6 Baby / Krishna  Cutout.
6 LED Light On Stage.
2 Pot With Artificial Flower.
4 Compound With Artificial Flower.
Baby Name In Display.
Printed Carpet.
For Details Contact : Samarthkrupa Event
Call : 8698308572 | 7030151913
Naming Ceremony Package No 6
Rate : 10999/- + Transport
Sankheda Swing With Artificial   Flower Decoration.
Western Balloon Ring Decoration. 
6 Baby / Krishna  Cutout.
6 LED Light On Stage.
2 Pot.
Baby Name In Display.
Printed Carpet.
For Details Contact : Samarthkrupa Event
Call : 8698308572 | 7030151913
Naming Ceremony Package No 7
Rate : 11999/- + Transport
Sankheda Swing With Artificial   Flower Decoration.
Beautiful Rajasthani Dripping  Backdrop.
2 Moving Peacock On Stage.
6 Baby / Krishna  Cutout.
6 LED Light On Stage.
2 Pot.
4 Compound With Artificial Flower.
Baby Name In Display.
100 Balloon Decor.
Printed Carpet.
For Details Contact : Samarthkrupa Event
Call : 8698308572 | 7030151913
Naming Ceremony Package No 8
Rate : 14999/- + Transport
Moon Zhula.
Beautiful Blue Satin Backdrop And Artificial Flower.
Full Moon Artificial Flower Decor.
2 (3D) Reindeer.
Cloud In Backdrop.
Star In Backdrop. 
6 Baby / Krishna  Cutout.
8 LED Light On Stage.
2 Pot With Artificial Flower.
4 Compound With Artificial Flower.
Baby Name In Bord.
100 Balloon Decor.
Printed Carpet.
For Details Contact : Samarthkrupa Event
Call : 8698308572 | 7030151913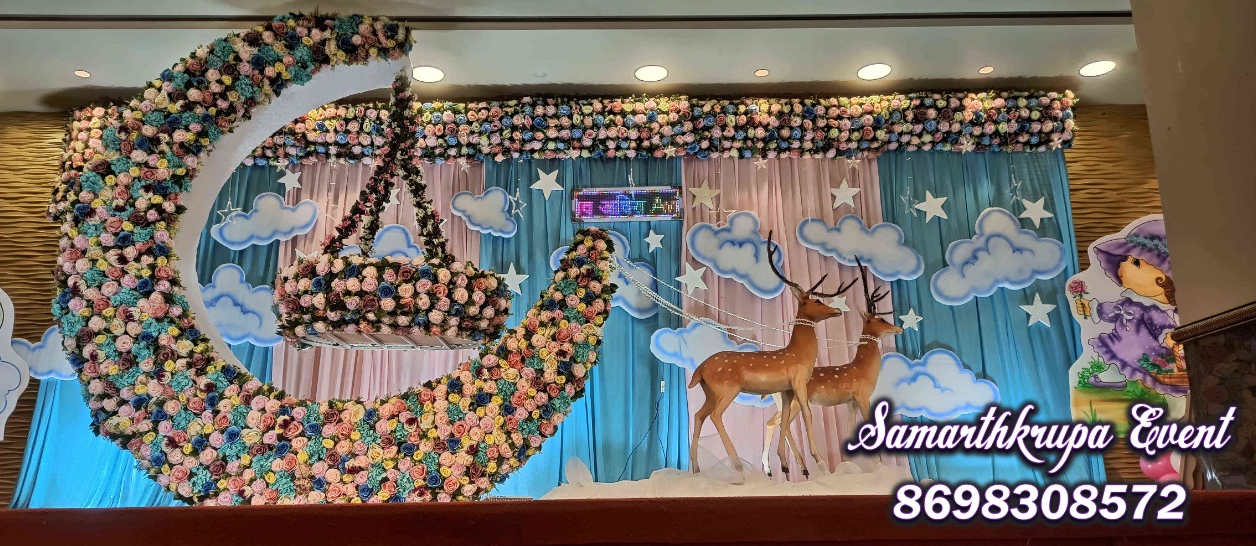 Naming Ceremony Package No 9
Rate : 14999/- + Transport
Moon Zhula.
Beautiful Blue And Pink Satin Backdrop And Artificial Flower.
Full Moon Artificial Flower Decor.
2 (3D) Reindeer.
Cloud In Backdrop.
Star In Backdrop.
6 Baby / Krishna Cutout.
8 LED Light On Stage.
2 Pot With Artificial Flower.
4 Compound With Artificial Flower.
Baby Name In Bord.
100 Balloon Decor.
Printed Carpet.
For Details Contact : Samarthkrupa Event
Call : 8698308572 | 7030151913
Dohale jevan Decoration | Baby Shower Decoration
Naming Ceremony Decoration
Birthday Party Decoration