The Most Creative Event Planners for Wedding Decoration in Pune
Are you searching for wedding decorations near me to add a dash of colors to make the wedding day a royal one? You are landed on the perfect page. SamarthKrupa Event offers super special and beautiful wedding decoration services to enhance the charm of the event. What are your plans – themed decoration, simple decoration, or religious aesthetics? From Wedding ceremonies to wedding receptions to all your wedding-related rituals, we are ready to satisfy all your demands with all the safety measures. We have created a classy ambiance for more than 250 weddings at various top locations in Pune and throughout this journey, we understood what people remember the most – it's none other than your wedding decoration.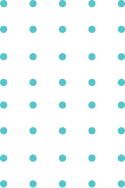 We can feel your excitement and your emotions on the wedding day and for that we love to work according to your preferences. From stage decoration to stunning entrance set-up to seating arrangements, we will customize everything as per your choice to make your special day more memorable.
We understand how much it matters when it comes to the budget of the overall wedding and if your wedding is handover to the wrong event planner, it will surely eat a lot from that budget. Don't worry about your budget when you plan a wedding with SamarthKrupa Event. We have plenty of creative plans and classic simple stage decoration ideas that cater to your low-budget wedding stage decoration needs. If you want to compare our affordability, simply Google – simple stage decoration for marriage with price. We are sure you will be amazed by the heavy rates offered by other event planners. We make sure our creative arrangements comfort your guests, whereas overall decoration comforts your pockets.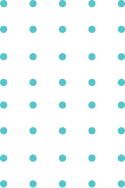 Solutions that Matches with everyone's budget - Low to Royal, Celebration must be Phenomenal
Wedding Package No 1
Rate : 9999/- + Transport
Peach Satin  Backdrop With One Side Dripping.
 Backdrop  Artificial Flower Decor.
Sofa On Stage.
Entrance Decor.
2 Pot With Artificial Flower .
Tharmacol Name.
2 Compound With Artificial Flower.
4 Booke.
6 LED Light On Stage.
Printed Carpet.
For Details Contact : Samarthkrupa Event
Call : 8698308572 | 8888775171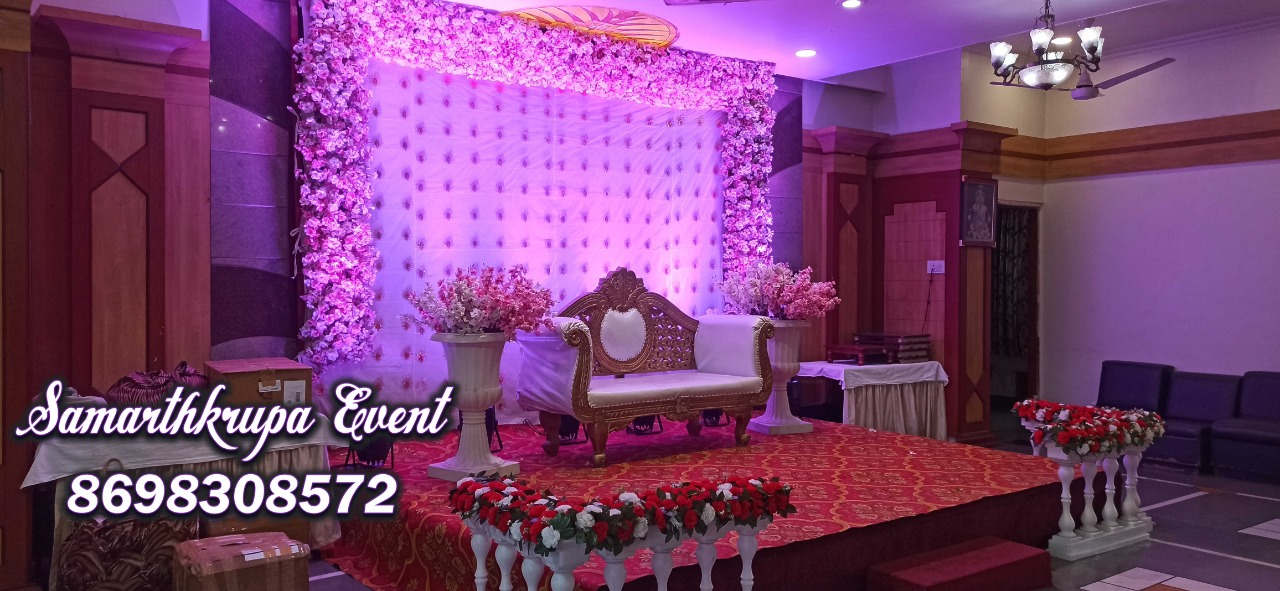 Rate : 9999/- + Transport
White Golden Printed Backdrop.
 Backdrop  Artificial Flower Decor.
Entrance Decor.
Sofa On Stage.
2 Pot With Artificial Flower.
4 Compound With  Artificial Flower .
Tharmacol Name.
6 LED Light On Stage.
Printed Carpet.
For Details Contact : Samarthkrupa Event
Call : 8698308572 | 8888775171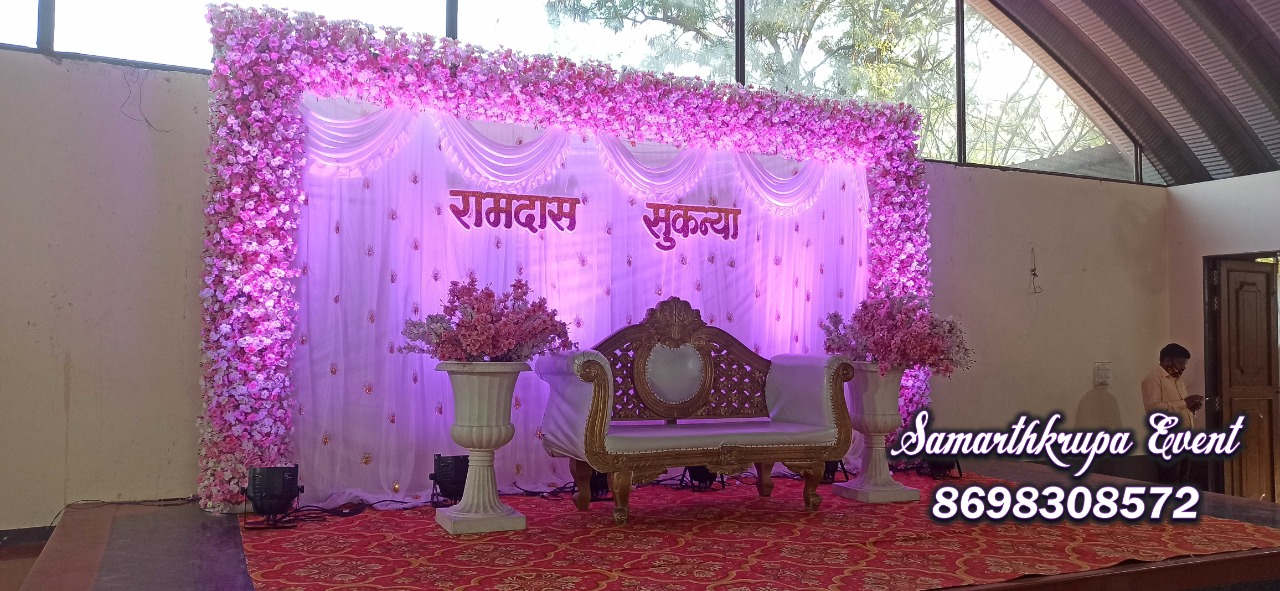 Rate : 12999/- + Transport
White Golden Printed Backdrop.
 Backdrop  Artificial Flower Decor.
Entrance Decor.
Sofa On Stage.
2 Pot With Artificial Flower .
4 Compound With  Artificial Flower .
Tharmacol Name.
6 LED Light On Stage.
Printed Carpet.
For Details Contact : Samarthkrupa Event
Call : 8698308572 | 8888775171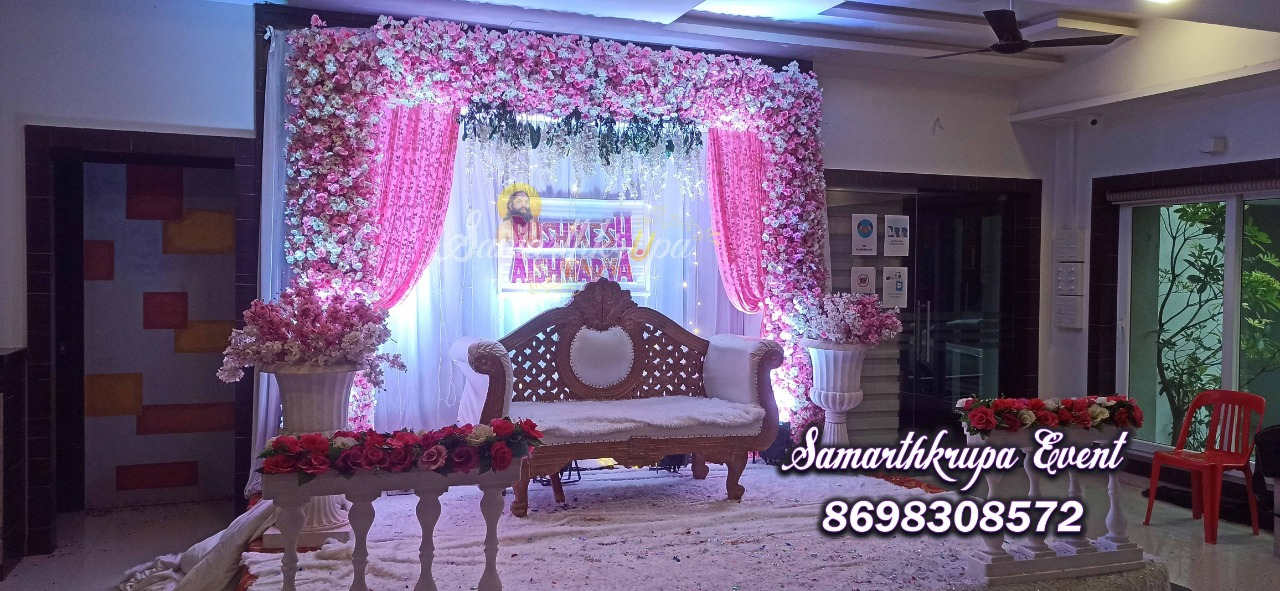 Rate : 14999/- + Transport
 Trust Background Setup.
Trust Artificial Flower Decor.
Entrance Decor.
Sofa On Stage.
2 Pot With Artificial Flower .
Tharmacol Name.
8 LED Light On Stage.
2 Compound On Stage.
Printed Carpet.
For Details Contact : Samarthkrupa Event
Call : 8698308572 | 8888775171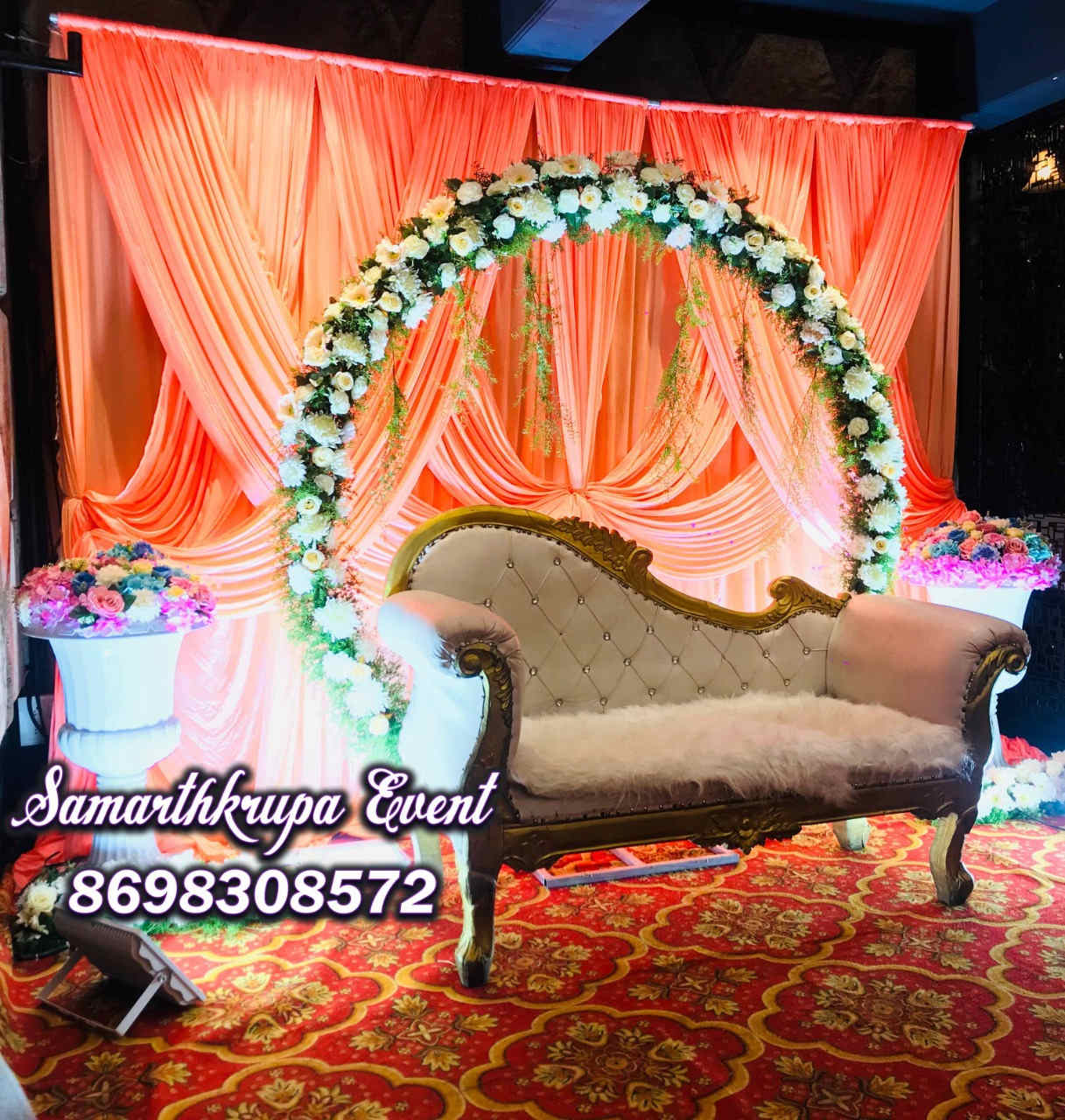 Rate : 17999/- + Transport
Dripping   Background Setup.
Ring With Artificial Flower Decor.
Entrance Decor.
Sofa On Stage.
2 Pot With Artificial Flower .
Tharmacol Name.
8 LED Light On Stage.
Printed Carpet.
For Details Contact : Samarthkrupa Event
Call : 8698308572 | 8888775171
Rate : 19999/- + Transport
Dripping   Background Setup.
Ring With Artificial Flower Decor.
Entrance Decor.
Sofa On Stage.
2 Pot With Artificial Flower .
Tharmacol Name.
8 LED Light On Stage.
Printed Carpet.
For Details Contact : Samarthkrupa Event
Call : 8698308572 | 8888775171
Rate : 19999/- + Transport
 Trust Background Setup.
Trust Artificial Flower Decor.
Entrance Decor.
Sofa On Stage.
2 Pot With Artificial Flower .
Tharmacol Name.
8 LED Light On Stage.
Printed Carpet.
For Details Contact : Samarthkrupa Event
Call : 8698308572 | 8888775171
Wedding Package No 8
Rate : 19999/- + Transport
Leather Panel Setup.
 Panel Artificial Flower Decor.
Sofa On Stage.
Entrance Decor.
2 Pot With Artificial Flower .
Tharmacol Name.
8 LED Light On Stage.
Printed Carpet.
For Details Contact : Samarthkrupa Event
Call : 8698308572 | 8888775171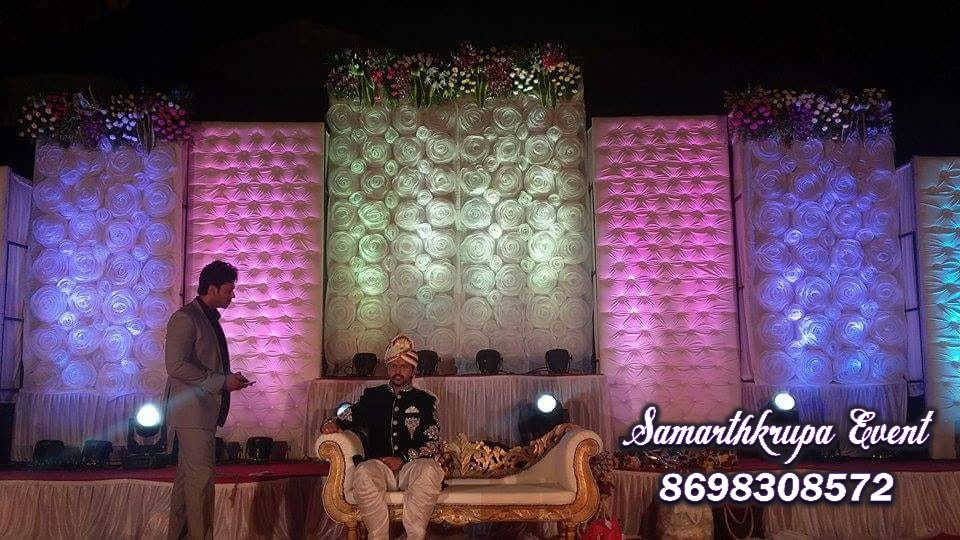 Wedding Package No 9
Rate : 29999/- + Transport
Leather Panel With Rose Backdrop Setup.
 Panel Artificial Flower Decor.
Sofa On Stage.
Entrance Decor.
4 Pot With Artificial Flower .
Tharmacol Name.
12 LED Light On Stage.
Printed Carpet.
For Details Contact : Samarthkrupa Event
Call : 8698308572 | 8888775171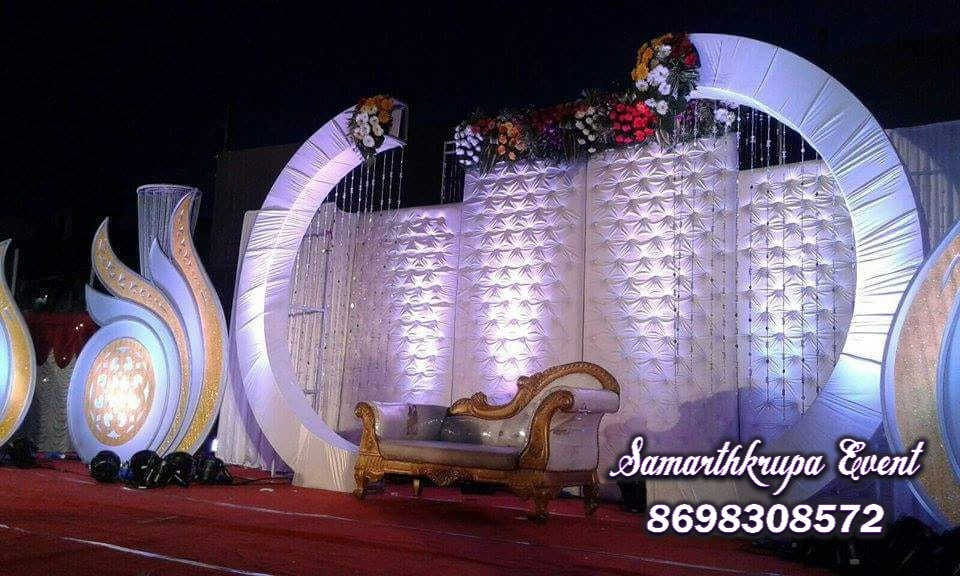 Rate : 39999/- + Transport
Big Leather Panel  Setup.
 Panel Artificial Flower Decor.
Sofa On Stage.
Entrance Decor.
4 Pot With Artificial Flower .
Tharmacol Name.
20 LED Light On Stage.
Printed Carpet.
For Details Contact : Samarthkrupa Event
Call : 8698308572 | 8888775171
Wedding Package No 11
Rate : 19999/- + Transport
Artificial Flower Arch Setup.
White Backdrop With Artificial Flower Decor.
Sofa On Stage.
Entrance Decor.
2 Pot With Artificial Flower.
Zhumber Middle of Arch.
Tharmacol Name.
10LED Light On Stage.
Printed Carpet.
For Details Contact : Samarthkrupa Event
Call : 8698308572 | 8888775171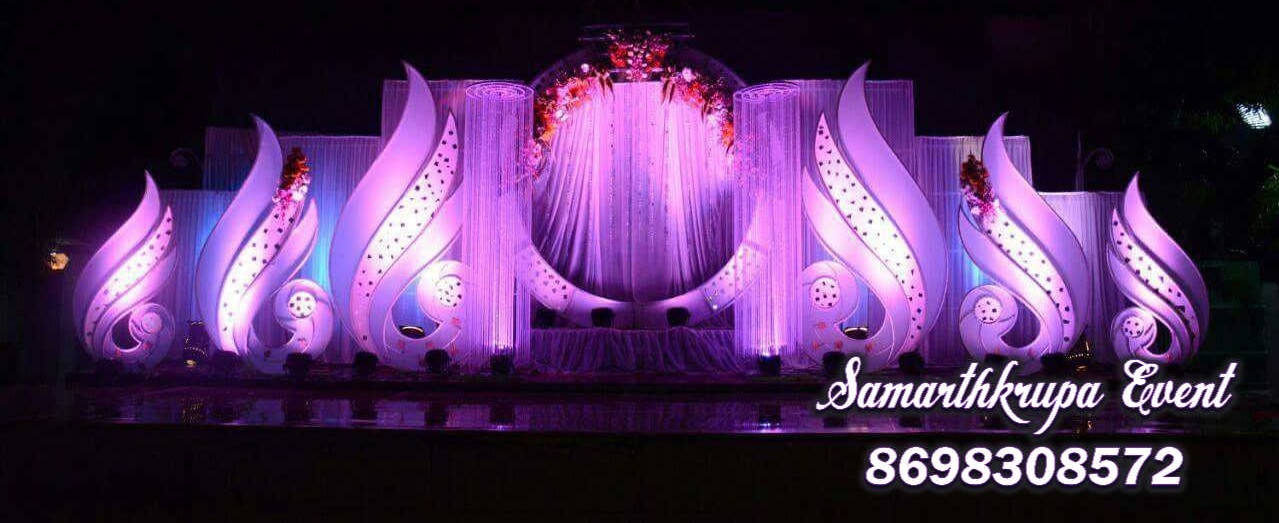 Rate : 29999/- + Transport
Big Ring  Setup.
 Artificial Flower Decor.
Sofa On Stage.
Entrance Decor.
4 Pot With Artificial Flower .
Tharmacol Name.
20 LED Light On Stage.
Printed Carpet.
For Details Contact : Samarthkrupa Event
Call : 8698308572 | 8888775171
Rate : 45999/- + Transport
Royal Butterfly Setup.
 Leather Panel Artificial Flower Decor.
Sofa On Stage.
Butterfly Entrance Decor.
6 Pot With Artificial Flower .
Tharmacol Name.
20 LED Light On Stage.
Printed Carpet.
For Details Contact : Samarthkrupa Event
Call : 8698308572 | 8888775171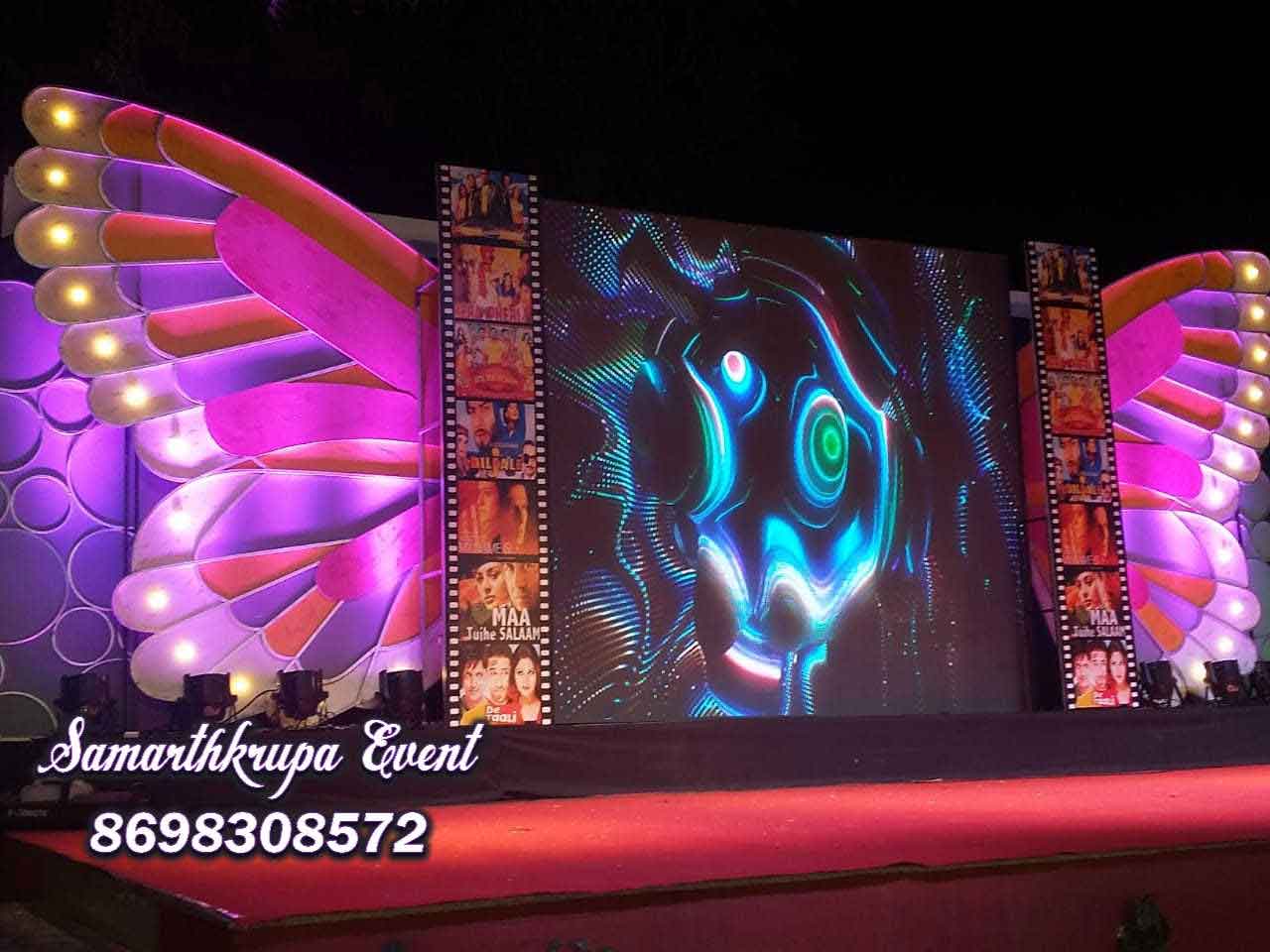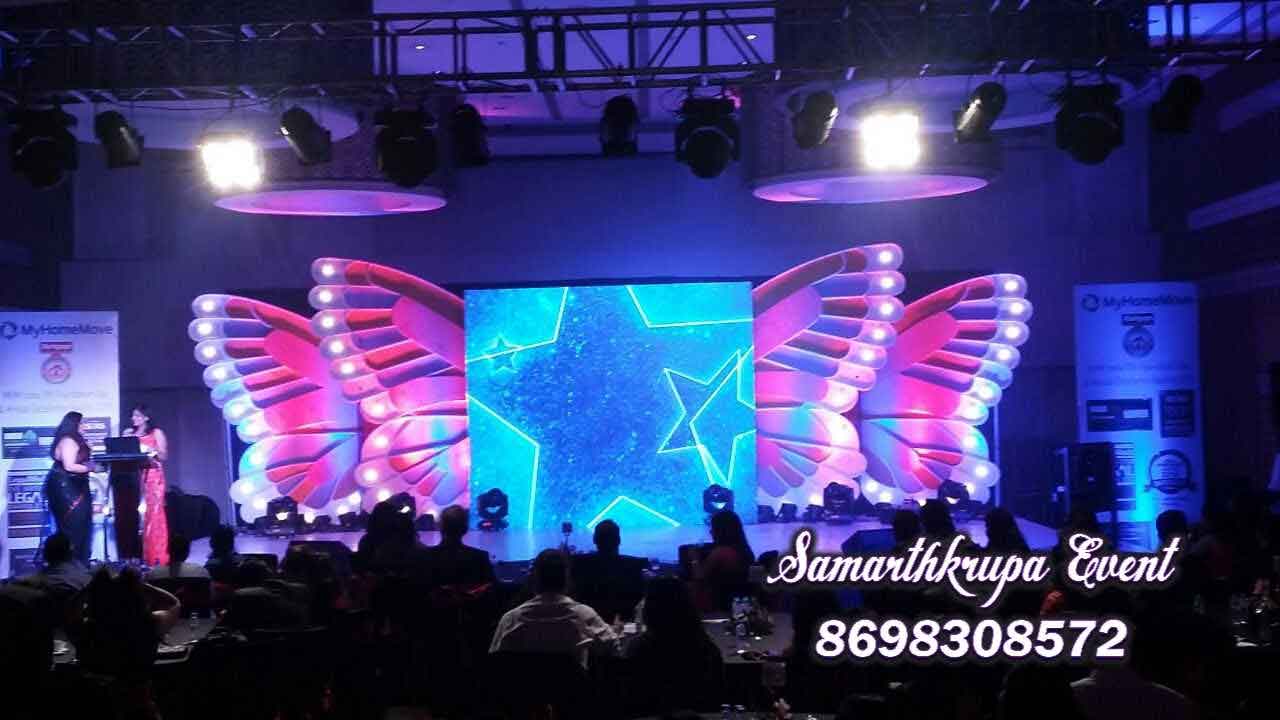 Rate : 45999/- + Transport
 Butterfly Setup.
 8×8 LED Screen.
Sofa On Stage.
Butterfly Entrance Decor.
4 Pot With Artificial Flower .
Tharmacol Name.
15 LED Light On Stage.
Printed Carpet.
For Details Contact : Samarthkrupa Event
Call : 8698308572 | 8888775171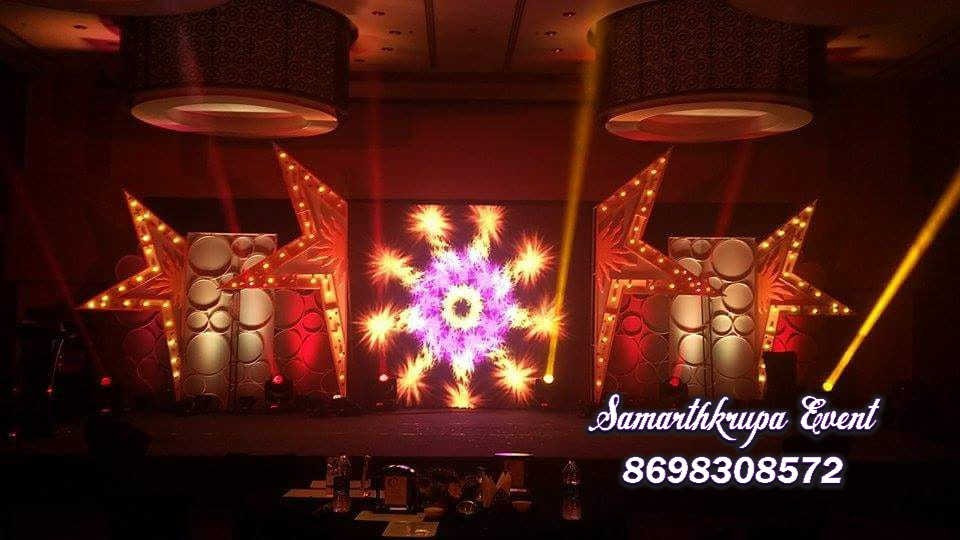 Rate : 24999/- + Transport
LED Star  Setup.
 8×8 LED Screen.
Sofa On Stage.
Star Entrance Decor.
4 Pot With Artificial Flower .
Tharmacol Name.
15 LED Light On Stage.
Printed Carpet.
For Details Contact : Samarthkrupa Event
Call : 8698308572 | 8888775171
Wedding Package No 16
Rate : 24999/- + Transport
LED Ring  Setup.
Sofa On Stage.
Ring Entrance Decor.
4 Pot With Artificial Flower .
Tharmacol Name.
15 LED Light On Stage.
Printed Carpet.
For Details Contact : Samarthkrupa Event
Call : 8698308572 | 8888775171

 
Birthday Party Decoration
Naming Ceremony Decoration
Dohale jevan Decoration | Baby Shower Decoration